Nx-6 Rotary Screw – Tank Mounted
Brand: FS Curtis Model: NXB06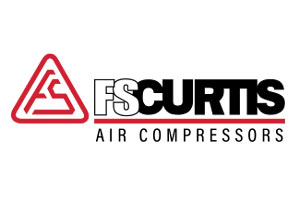 QUIET, EFFICIENT AND EFFECTIVE – That's what you get with the FS-Curtis Nx Series 7.5HP Rotary Screw Air Compressors.
Stable pressure, steady airflow and quiet continuous-duty operation are just a few advantages you get with FS-Curtis rotary screw compressors.  This is a Fixed Speed Tank Mounted Unit – 60 Gallon Air Receiver Tank Included
Ships via truck from the factory in St. Louis, MO.
Description
High Performance with Legendary Reliability
That's what you expect and that's what you get when you invest in an FS Curtis Nx Series Rotary Screw Air Compressor.  These smart, compact units also offer better air quality with less oil carryover than reciprocating models. Intuitive controls and diagnostics make them easy to use and service, too. It all adds up to an extremely reliable machine that can run 100% continuous duty, delivering more airflow and better efficiency in a space-saving design — making the Nx Series ideal for automotive, light industrial and other applications that require reliable performance in demanding conditions.
Standard Features:
iCommand – Basic Electronic Controller
Powder Coated Enclosure
Multi-Function Oil Valve
Vibration Isolators
eCool® Technology with washable cabinet pre-filter
Laminated Oil-proof Sound Insulation
Built-in Heavy Duty Air Intake Filter
Encapsulated Airend
Spin-on Oil Filter and Air/Oil Separator
Air Cooled Oil Cooler
Multi-function Oil Valve
Factory Filled Synthetic Lubricant
Electric Features:
Premium Effiiciency TEFC (IP55) Motor
NEMA-1 Electrical Panel
Full Voltage Motor Starter
115/18V Control Voltage Transformer
Dryer Voltage – Single Phase, 115V